A Service of
Learn about Japan

"About Japan: Newbie to Knowledgeable" is my new book about Japan and things Japanese. This introduction to Japan and is a "must have" guide for folks who are new to this interesting but mysterious country.

9 11 2001
Misawa Date / Time
9/24/2017 1:31:35 PM
(Click Refresh to Update)
A free, public
service of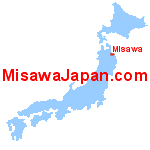 COMMUNITY NOTES

The Clubs have added a Saturday Night Buffet to their dining schedule. This makes up for Magnum's temproary closing and will stay in effect until Magnums reopens at some as yet undetermined date.

Effective 1 June, the Community Center and Misawa ITT have moved to the Weasels' Den. They are located behind the Outdoor Rec Retail counter.

Cheli School Age Child Care Program has some fun trips scheduled over the Summer Vacation. Here's the list and the number to call.

The Bowling Center offers a summer-long bowling competition - UFC Bowing. Starts in early June. Details here.

The Base Beach opens on 15 June. Details like operating hours, etc can be found here.

21 June is the date for American Day. Rock Fest is a part of it and happens on 20 and 21 June.

Potter Fitness Center hosts the Northern Japan Bodybuilding Competition on 30 June in the Mokuteki Ballroom. Check the flyer here.

When you leave Misawa, do you need a vehicle at your next duty location? Military AutoSource is your answer!! Custom build your next vehicle at my desk and save THOUSANDS! Click this link for the details: or call, email or text TONY for more information. Phone: 08030819807, Email aking@militarycars.com.

The Fitness Center hosts the Freedon Color Run on 4 July. Learn all about it.

The Community Center hosts the Cook It Up BBQ Contest on 12 July. Detail are here.

The Himberg Pool will close on 26 July for major renovations. It will be closed for 9 to 12 months.

Interested in the AF Marathon? It happens in September. Get the details here

Anyone up for a challenge? Just started a new contest. Sign up boxes are in the Commissary and by Dunkin Donuts. It's a TIMED Commissary shopping Spree. Details from Tony King, new car sales.

The Lunney Youth Center offers Summer Camps and Sports Camps on a number of activites. Click the links to see the schedules.

The Lunney Youth Center is now open to rent for parties on weekend nights. Also they are now taking registrartion for Flag Football. The season starts in August. Register by 26 June. 226-3220 for info.

There are big plans for maintenance of Cummings Elemenatary School and Edgren Hight School beginning this summer and running into 2017. This will affect where your studend will go to school during this period. Check out the Edgren letteron the subject. No more room in your storage shed? Let the Auto Hobby Shop store your off-season tires (there is a fee).

Did you know that Misawa City has a bus service that goes all around town? For 100yen you can ride all over town. The schedules are a little confusing but I have posted them and the route. Bus data

The Child Care Program offers "Child Care for PCS" to folks in the process of a PCS move. Contact them at 226-2273 for info.

For info about getting around Japan on your own, take a look here.

Be sure to check out the Long Term info> page for things that just don't change.


---