A Service of
Learn about Japan

"About Japan: Newbie to Knowledgeable" is my new book about Japan and things Japanese. This introduction to Japan and is a "must have" guide for folks who are new to this interesting but mysterious country.

9 11 2001
Misawa Date / Time
5/26/2018 6:36:02 PM
(Click Refresh to Update)
A free, public
service of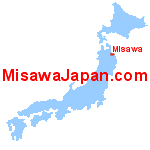 COMMUNITY NOTES
Updated - 2 Feb 2018

Phone nrs for below activities are listed on the main Misawa Events page.

Military AutoSource, your overseas military benefit saving thousands of dollars on your new vehicle purchase (for stateside or European delivery). click here for more info or check us out on Facebook

May 26 is the Tour de Ogawara Cycling Challenge beginning at 9am. Its a 53 km ride around Lake Ogawara. Get detaols at Outdoor Rec.

Misawa Stars finale performances take place on 1 June at the Club Tohoku.

The Community Center is going to Oirase for Strawberry Picking on 9 June atom 10am til 2pm. Register at the Community Center oby 1 June. Call 226-4128 for details.

The Misawa International Motor Show and Swap Meed happens on 24 June at 10am in the Exchange parking lot.

Misawa ITT is going to climg Mt. Fuji in July. Tickets are on sale now at Misawa ITT.

The base Shooting Range open for Skeet, Trap, Archery and Paintball on 14 April. Ooutdoor Rredfor more info.

Misawa Ticket and Tours office will help you get your US Tourist Passport. Details here.

The Education office holds monthly Officer Commissioning briefings for folks who what to pursue a oommission on how to submit a commissioning package. Briefing takes place in Bldg 653, room 219A on the last Wednesday of each month at 1pm. call the Education Center at 226-4201 for more info.

See the most current 35FSS Facility Directoryhere

the Youth Center offers Hip Hop, Ballet, Taiko Drum, Tumbling classes. Call the center at 226-3220 for info.

The Lunney Youth Center is now open to rent for parties on weekend nights. Also they are now taking registrartion for Flag Football. The season starts in August. Register by 26 June. 226-3220 for info.

Did you know that Misawa City has a bus service that goes all around town? For 100yen you can ride all over town. The schedules are a little confusing but I have posted them and the route. Bus data

For info about getting around Japan on your own, take a look here.

Be sure to check out the Long Term info page for things that just don't change.


---